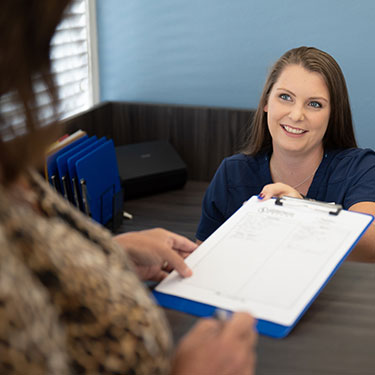 New Patients
If you're visiting our Bryant chiropractic care center for the first time, we'd like you to know what to expect on your first visit. It's our goal to make your time with us a relaxing and comfortable experience.
Our office is often described as warm, friendly and cozy, where patients feel supported. We hope you think so, too.
Se habla español!
Your First Visit
Your first visit will take about 60 to 75 minutes. As you enter the clinic, you'll be warmly greeted and invited to complete your new patient paperwork if you haven't already done so.
Our chiropractic assistant will then escort you to our exam room, where you'll meet privately with Dr. Tipton. Dr. Tipton will conduct an in-depth assessment, including
A health history
A detailed consultation
An orthopedic and neurological examination
Digital X-rays (if needed)
Dr. Tipton will then evaluate your examination and X-ray findings to help you understand the source of your problem. She'll then discuss customized care options to help you start feeling your best.
Depending on your problem and the degree of pain you're experiencing, we'll recommend specific therapies to assist in the healing process. These therapies may include heat, ice, electrical muscle stimulation, ultrasound, acupuncture, kinesio taping or various types of traction.
Your visit will conclude with your first gentle chiropractic adjustment.
Subsequent Visits
Ongoing regular office visits will take an average of about 30 minutes. Consistent adjustments are an essential part of your care in the passive portion of your program.
This initial consistency, paired with specific therapy, will help your body to heal more rapidly.
Contact Us Today
Most of our patients choose to come in for periodic adjustments to maintain a pain-free lifestyle. However, the choice is always yours. No matter what you decide, our doors are always open.
Our clinic also offers the best in auto accident injury care and acupuncture.
We feature on-site digital X-rays and same-day appointments. We accept most insurances, including Medicare. Walk-ins and call aheads are always welcome. Contact Chiropractic Health Center today for a free consultation!
CONTACT US »
---
New Patients | (501) 847-7246