Meet Dr. Miranda Tipton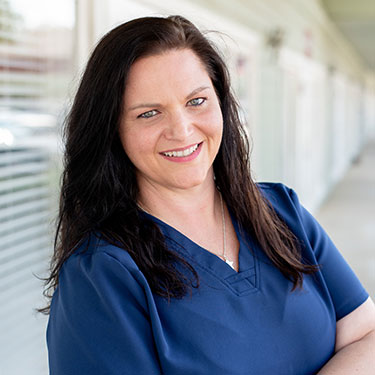 Since 2018, Dr. Miranda Tipton has delivered customized chiropractic care to Bryant residents wishing to eliminate their pain and live a more fulfilling life. At Chiropractic Health Center, it's our privilege to welcome every member of the family, from children to those in their golden years. We're here to help!
The Pathway to a Career in Chiropractic
Dr. Tipton grew up in Farmington, Arkansas. Years ago, her mother suffered from an extremely bad bout of low back pain. "Mom couldn't even walk; we all feared the worst." But her mother went to see a chiropractor, and the rest is history. "That chiropractor saved my mom from surgery. The care she received had a huge impact on me."
This chiropractor also performed acupuncture on Dr. Tipton's knee after she hyperextended it during a high school basketball game. "Again, I was amazed at how quickly the wrenching pain in my knee went away."
A Thirst for Knowledge
To prepare for her career in chiropractic, Dr. Tipton attended the University of Arkansas for her undergrad studies. She was a member of Alpha Delta Pi Sorority, and received her Bachelor of Science in Kinesiology in 2002. She subsequently earned her Doctor of Chiropractic degree from Parker Chiropractic University in Dallas, Texas in 2005. While there, she obtained "blue coat" status for her proficiency in adjusting, having the responsibility of assisting her fellow students. She also received her second Bachelor's Degree (in Anatomy) from Parker.
Dr. Tipton combines passion and precision in her approach to helping others. It's important to her that each patient receive the care that's right for them. She wants them always to leave her office with a sense of well-being.
Since graduation, Dr. Tipton has taken numerous courses in acupuncture. She's additionally been mentored in this science by Dr. Simmons, the former owner of Chiropractic Health Center.
CHIROPRACTIC CARE »
On a Personal Note
Dr. Tipton has been married to Byron since 2015. The couple has a young son, Miller. As a Christian, Dr. Tipton's faith is important to her and influences how she runs her practice. In her spare time, Dr. Tipton loves to attend garage sales to do some bargain-hunting. She also enjoys decorating and scrapbooking while drinking her favorite beverage: coffee! She's an avid Razorback fan, and also a fan of the Dallas Cowboys.
Contact Us Today
For your convenience, our chiropractic office features on-site digital X-rays and same-day appointments. We accept most insurance, including Medicare. Contact us today for a free consultation!
---
Dr. Miranda Tipton | (501) 847-7246