Chiropractic Care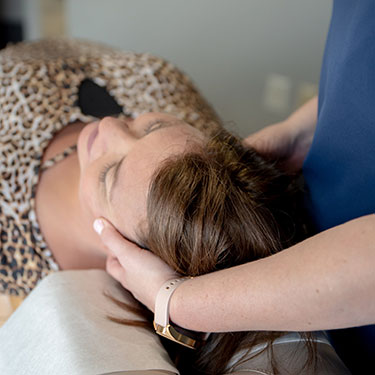 Chiropractic care is holistic in nature. It addresses the "whole." This is because the entire body and all its parts are interconnected.
Chiropractors correct spinal misalignments that occur due to the rigors of everyday living. When spinal misalignment is evident, nerve transmission suffers. Our job is to take the pressure off the affected nerve so that it can calm down. That action, in turn, affects the muscles and organs, reducing muscle spasm and increasing function. The result is a lessening or elimination of pain.
Benefits of Chiropractic Care
Most of our patients report a substantial improvement in the overall quality of their life while under chiropractic care. They experience increased vitality, more energy, less pain and a greater sense of well-being. Other benefits include
Better sleep
Decreased muscle tension and pain
Easier and more productive workouts
Enhanced athletic performance
Faster healing from an injury or illness
Greater range-of-motion and flexibility
Improved digestion
These changes are possible because each part of your spine has a direct connection with specific organs. When nerve supply is cut off, a return to proper spinal alignment will also optimize function in these regions.
Our Popular Techniques
Chiropractic Health Center relies on research-based techniques that have stood the test of time. Our patients appreciate that when it comes to spinal correction and pain relief, we have an array of adjustment techniques at our disposal. We're happy that we can cater to your preferences.
The three techniques that are in high demand are the traditional Diversified and Thompson Drop Table approaches. We also feature Activator Methods®, an instrument-based technique that involves no twisting or popping of the spine.
We also offer adjunctive therapies to assist you in feeling your best—quickly. These include acupuncture, electrical muscle stimulation, heat, ice, intersegmental traction, Kinesio taping, therapeutic exercise, ultrasound and various forms of traction.
These Conditions Respond Well to Our Customized Care
Headaches and migraines
Jaw Pain (TMJ)
Hip, knee and shoulder pain
Muscle spasm
Low back pain
Neck pain
Plantar fasciitis
Radicular pain, numbness and tingling
Sciatica
Torticollis
Vertigo
Make an Appointment Today
Whether you prefer a technique that involves no popping or twisting of the spine, or a traditional research-based manipulation style, Chiropractic Health Center can get the job done.
We're here to put you at ease while creating a significant change in the optimization of your health. Our office accepts insurance and features on-site X-rays and affordable cash plans. Contact us today for a free consultation!
CONTACT US »
---
Chiropractic Care Bryant AR | (501) 847-7246